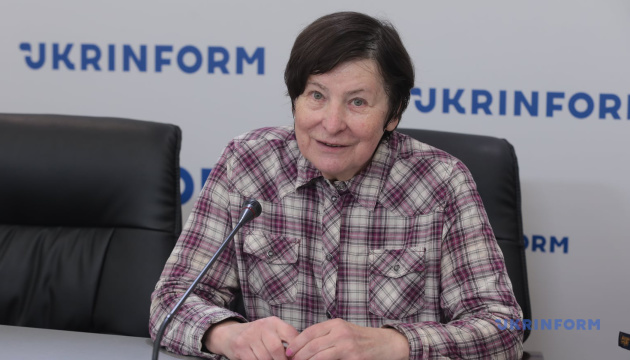 Anastasia Mukhina, former hostage of "LPR"
Anastasia Mukhina from Luhansk thought her retirement life would be calm and secure, to which she had made great efforts. When the pipe factory where she worked stopped paying wages, the woman left to work abroad. Whatever money she made, she invested in home improvement. She couldn't have imagined that one day it would all be taken away from her. By the time Russia started the war in Donbass, Anastasia was already retired. But that didn't stop her from leading her own fight for Ukrainian Luhansk.
"THE BULLDOZERS WAS SWEEPING BODIES AND THE DYING"
– What do you remember from the period when the occupation of Lugansk began?
– In 2013, the Russians flooded Luhansk, they were everywhere, they stood openly in front of the tents erected in front of the regional council, the city's executive committee, hoisting Russian flags. And when the time came in 2014, Crimea was annexed and seized by Russia, and the next day I read on the Internet that all local products are already made and marked as Russian.
After the referendum, several Grad MLR systems were deployed in Luhansk in the Thirty Years of Victory Street. I could see them from a hospital window. Then terrifying bombardments began … From the beginning of July, there was no more electricity or water. Every day people walked to fetch water, coming under gunfire. I walked 10 kilometers a day to get 25 liters of water.
I used to ask activists lots of questions. I approached them in such a way that they said things to me. One day I saw an activist in military uniform and flip-flops running around with terrified eyes. I said to him: "You will be detained by a patrol. Why don't you wear an appropriate uniform? »He said to me:« Madam, I saw things… I do not even know! .. I need alcohol to suffocate him. A bulldozer swept the bodies of the dead and dying. The driver, who had initially agreed to do so, refused but was forced to do so anyway, at gunpoint. Better not to be seen. "
– When did you personally realize that something had to be done?
– In 2014, I started to write leaflets saying that Ukraine will never abandon us, that it is Ukrainian land and that we must fight for it. I distributed them by mailbox. I could enter any building as the electric locks were not working due to the blackouts. I also posted flyers on poles and drew yellow and blue stripes.
"I KNEW BY ME THAT I WOULD NOT TELL ANYONE ABOUT IT, WHILE THE YOUNGEST CANNOT SUPPORT TORTURE AND REPORT ME …"
– How did you start to cooperate with the Ukrainian secret service?
– At the beginning of 2015, when I got home from the bank, I spoke with a woman on the bus. She worked with the Ukrainian army, so I gave her my number. After a while, our intelligence officers called me and we met.
I showed them on the shelf where the army and materiel was deployed in the area, adding that I needed more leaflets. And they say: "But you are already such an age …" I replied: "It's okay, I can still do a lot. Because for me it is disgusting and unacceptable that Russian boots trample our land. . "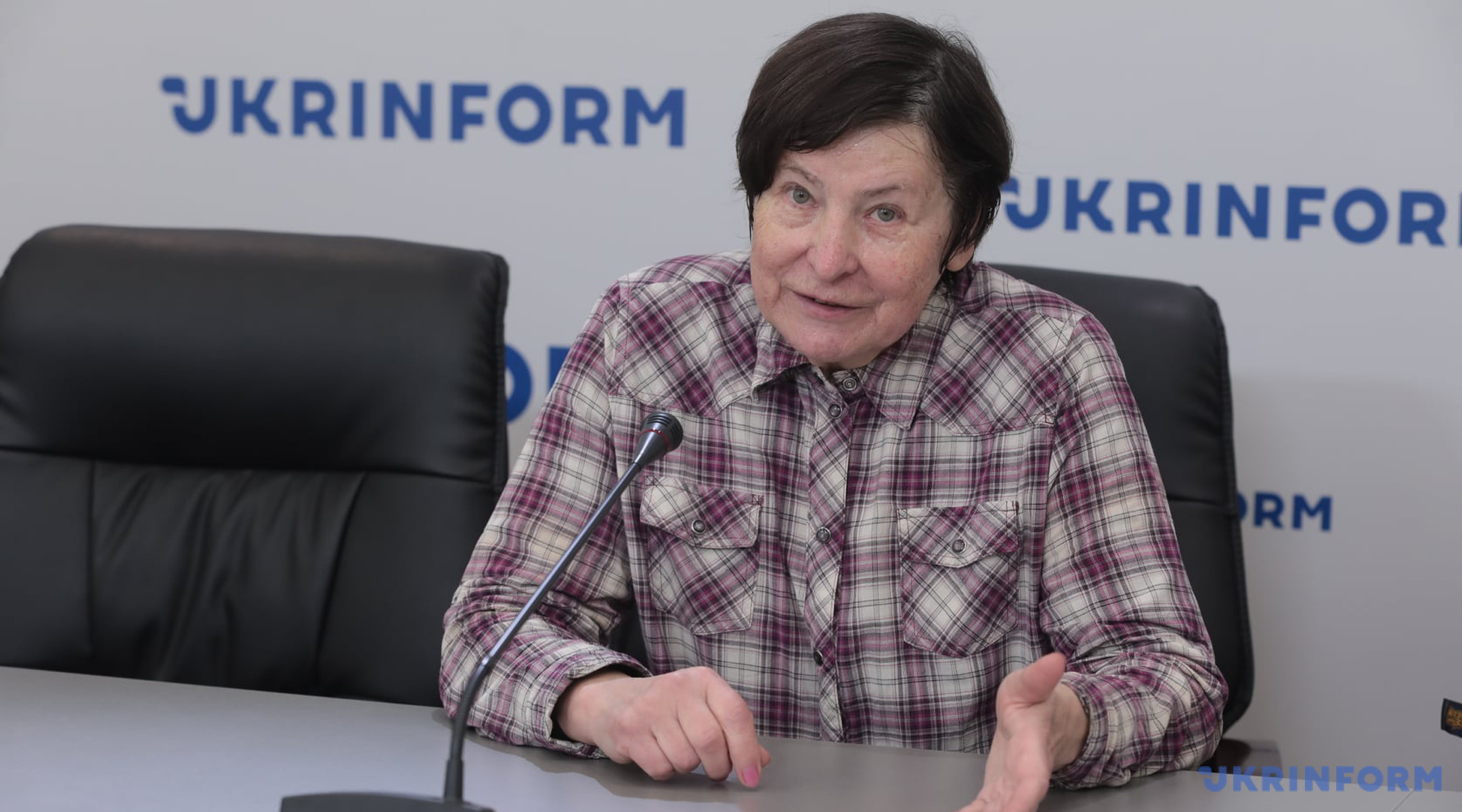 In addition to distributing leaflets, I was asked to pass data on the location and movement of forces and military equipment through the city and, if necessary, to travel to Krasnodon (now Sorokine – ed.) , in Mykolaïvka, settlements in the region. So I would give them all this information. They wanted to introduce me to other people who worked for the Ukrainian army. But I refused because I know for myself that I will not talk to anyone, when some younger people might not stand the torture and report me.
I had an idea on how to impart intelligence to my managers. It was something about dachas, vegetable gardens, etc. We have agreed on the passwords. There were basically two Russian brigades operating in the area, so I had to watch them. So in February 2015, I started working with the army.
– So you have been helping the Ukrainian secret service for three years. How did you let your guard down? What happened?
– On February 8, 2018, I had a few leaflets left and the same day I received an SMS telling me that I could collect my pension. So I took my pension and continued. I thought no one would notice me posting flyers in the far corner of a residential building and recorded it on my phone. But someone working for a local counterterrorism unit saw me. Me who was taking pictures caught his attention so he chased me … I put the leaflets in a book. He asked me what I had in my bag. I said it was a book. And then he ripped off my bag, looked inside and saw these leaflets and my phone … that's how I was arrested. And from February 8 to 10, they questioned me.
– And where was it?
– They were questioning me in my room. Hands behind my back, handcuffed. They said, "You don't want to go to confession? Now we're going to hang you at the door by your hands. They hanged me, but someone called them. They took me away and asked me again, "Go ahead, confess. My arms were so twisted that it still hurts a lot …
I wrote that I can confess what I was stuck on – the two leaflets I posted. Yes, I had postcards in the room, but I would have found them. Yes, I had explosive material, but I didn't take it anywhere. But neither the investigator nor the court paid attention. Of the thirteen, there are six counts for which I have been charged and convicted.
– You spent two years in prison. How was it ?
– In almost two years, 680 days that I spent there, I only spent about two weeks out of my cell. They take you for a walk – it's the same cell because you see the same people you are with, only the bars are above. And from above, activists watch over you. When I was taken to court, I was not given any medicine, I was not allowed to use the toilet. And then they would grab me by the collar of my coat and throw me in a wagon of rice so that I bang my head against the door – since I have this scar.
When we were taken for questioning or to a courtroom, we were taken to a room where we were told to undress completely. So we stayed there naked, forced to squat. Three squats for me and five for the others. They did the same with women and men.
I was taken for interrogation twice a week. It was a Chechen who questioned me. They didn't beat me with their hands, but they threw me against the wall so hard that I slipped on it …
It was impossible to eat there. Only the outer layer of the bread was properly baked, so there was this watery substance inside. The porridge they gave us would turn rock solid in five minutes. And when they brought us borscht, it stank so much that it was impossible to stand it …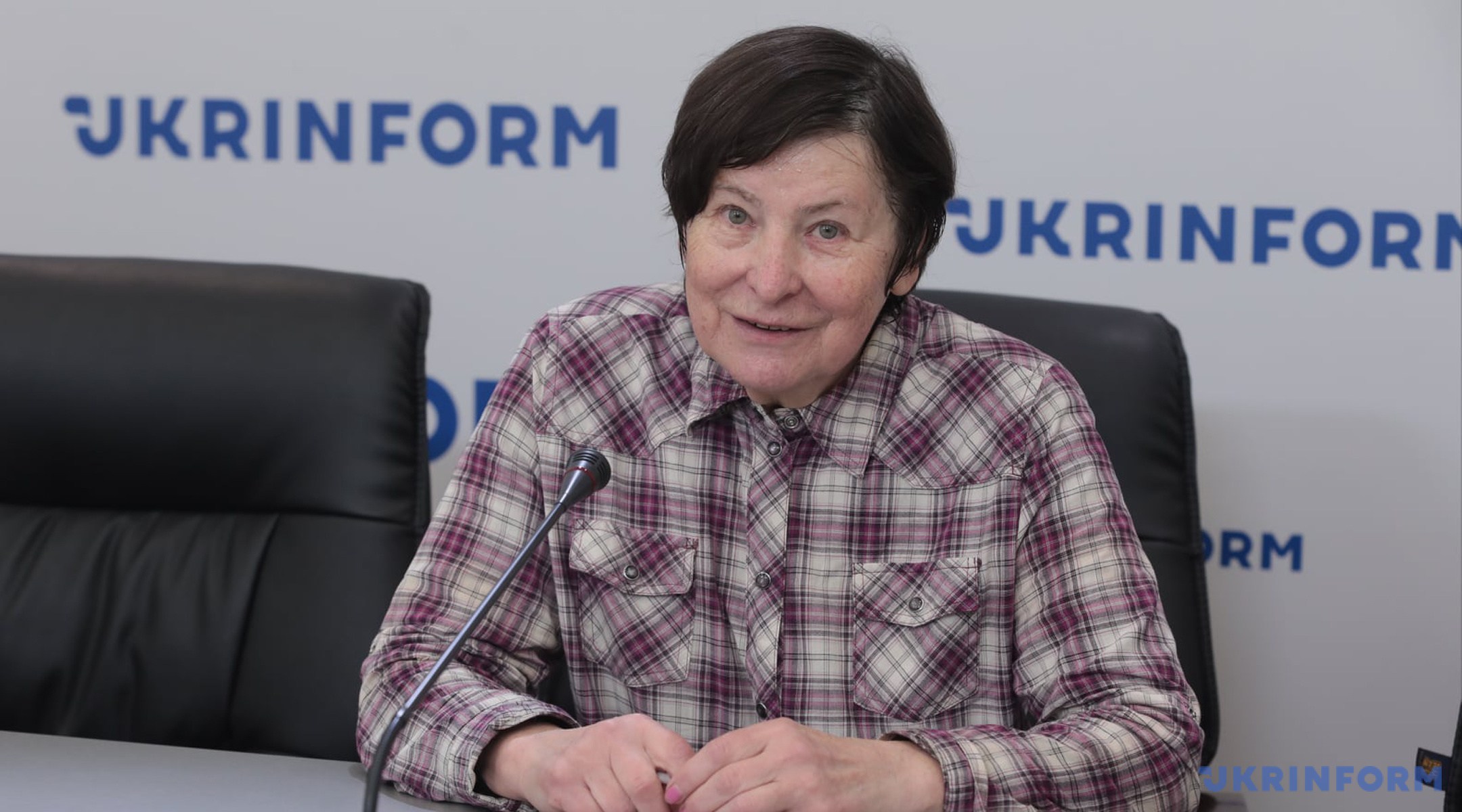 "WHEN WE WERE EXCHANGED, THERE WERE NO PASSPORTS ON US, EVERYTHING WAS REMOVED"
– Do you remember the day of the exchange, December 29, 2019? How did the government deal with you after that?
– I was greeted by my neighbor's daughter. I was given stuff, a phone that I could only use to make a call. I didn't have any ID with me either, because everything except my work papers was taken …
Then our physical exams began. We were taken to the gynecology unit at Feofania clinic and I requested that we first be tested for viral diseases, AIDS, tuberculosis. After all, all kinds of people were detained there who knows what kind of illnesses they might have.
– Did you receive 100,000 UAH for aid to political prisoners?
– I was one of the first to get these 100,000 UAH. During my rehabilitation, I was temporarily accommodated in a dormitory at 77 Lukyanivska Street. But soon the lockdown started, then the owner of the dormitory changed – so I was simply kicked out. For two years I lived in hostels and rented a bed, until I got the promised place in another dormitory.
This is a four bed room with no amenities. To access the kitchen, you need to go to another location. To go shopping, I had to go down the stairs to the fourth floor, and at the time I was still using a cane … And again, it was temporary accommodation. All the government did was give me a hundred thousand, a passport, and that's it. Everything else I do at my expense.
It's been a while, but we still don't have an official status so we are treated like IDPs. These are the people who took their belongings when they moved to the territory controlled by the Ukrainian government and they can return to the occupied territory at any time to check their belongings left behind, to see their parents' graves. We don't have such an opportunity. This is where we are different from displaced people. We need a certain status.
– Do you need anything else ?
– Comprehension. More than once I have heard officials say to me in private, "What the hell were you doing there anyway? Why did you go where you weren't asked? Who do you think you are? "I always tell them," What should I do? Watch the invader continue to occupy more territory? I am a Ukrainian citizen who can't stand someone moving into your home, that you were kicked out and trampled on. And without us and the military we were helping, the invaders would have already been at our border with Poland. "
Iulia Horban, Kiev
Photo by Hennady Minchenko
I am