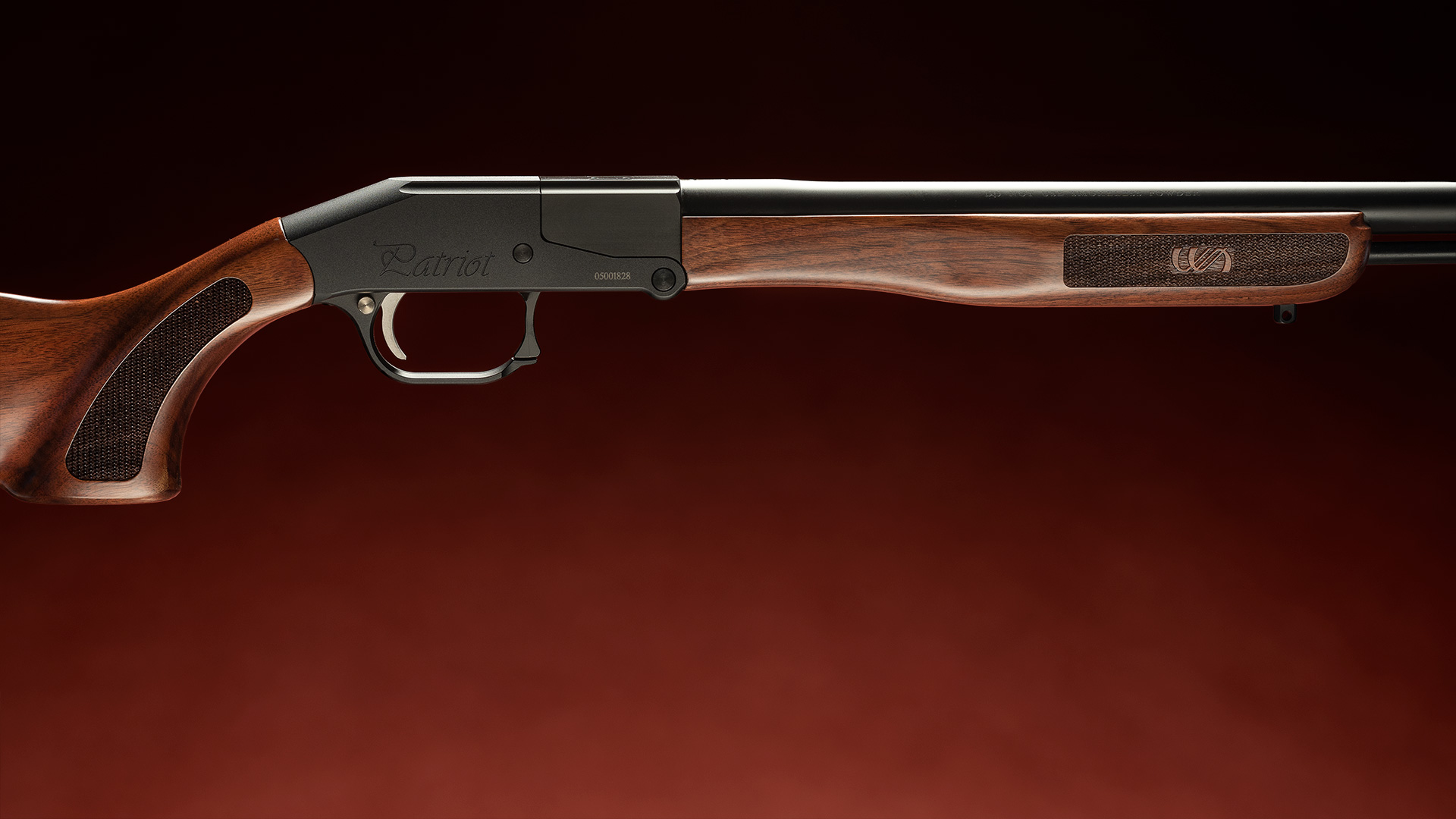 Equipment: Woodman Arms Patriot Muzzleloader
For many years, the muzzleloader market has been driven by innovation. Each new year has brought technology and design changes that have improved performance and advanced the sport.
Of course, it was inevitable that it would plateau at some point. For some time we have been witnessing, with few exceptions, a race to the bottom, with guns being sold in shells at ever lower prices.
I have been writing about muzzleloaders for a very long time, before lines, surrogate propellants and sabot bullets. I love exploring the technical side of these weapons and any significant advancements in the sport. But, honestly, I had lost interest. What passed for "innovation" was mostly gimmicks, and it's been a while since I've reviewed a muzzleloader.
I try to keep up to date with hunting trends, and among big wood hunters in the northeast, I saw a lot of talk about the Woodman Arms Patriot muzzleloader. Trends come and go and are often driven by personalities. If you can get one of the big name trackers to use your weapon, that creates sales in the target market. But then I noticed that some hunters that I know and respect – guys who use what works, not what's trendy – were using this gun. So, I thought maybe it was time to take a look.
The needs and wants of the big wood hunter are pretty much the same for any muzzleloader hunter. A lightweight, reliable and accurate rifle that works almost anywhere. This gun has a 24 inch barrel, easy to use in thick woods, inside a blind or in a treestand. It's a little chunky for a muzzleloader, but before you laugh, look at the bullet speeds we were getting. I also didn't believe they were possible until I saw it for myself.
Timmy Bolduc does public relations for Woodman Arms, and he told me that 90% of the guns sold are .45 caliber. I remember the first .45 fad and the huge disappointments in the woods. Balls were the problem back then, and as Timmy pointed out, they got better. So I opted for the .45.
Woodman Arms claims it is the most accurate and reliable muzzleloader on the market. Big talk, but can they back it up? After shooting lots of holes in targets with several of their guns, I think they can. At least the precision end of the equation.
My range test reliability was 100%, but the proof is in the woods. It's a closed-breech design, which keeps water out of the important stuff. So based on half a century of muzzleloader use, I think they're also right about reliability if the shooter takes care to seal the muzzle and primer.
Like any muzzleloader, the Patriot can be tricky, but I've found that with a little tuning it will reward you with groups you can't believe. Half MOA is unheard of with a muzzleloader, unless it's a fluke. Still, I've shot enough ½ MOA bands to know that's no fluke. The average of the top three loads I tested came out just under 1 MOA. A MOA muzzleloader exists mostly on the internet, but this one is the real deal.
By testing three different guns, we were able to achieve MOA accuracy with specific loads in each of them. Mark Woodman told me that he designed the gun to use the Blackhorn 209 propellant. There is no doubt that this is by far the first choice. I only wish it existed. My buddy Justin Schrader in Hodgdon had a can hidden in his office which he sent to me, but I quickly ran out of supply.
Then I met Woodman Arms super fan Jeff Hayes on Facebook. He bought one of the first rifles and now owns several. He shot and hunted with the Woodman Patriot probably more than anyone alive. One of his rifles holds nearly 3,000 rounds. Turns out he lives in New York, just across the border from me. So we met at the Proctor Fish and Game Club and he brought over Blackhorn 209 powder, bullets, guns and a ton of experience.
I tried other propellants including Triple 7 pellets and the ones I tried worked fine, no surprises, but there were no MOA bands either. With Blackhorn 209 though, this gun shines.
I know there is no Blackhorn 209 on the market right now. Aaron Olger from Hodgdon told me this was due to all the supply chain issues. According to him, they can only get part of what they order. There are some in the pipeline, but my advice is to buy the powder whenever you see it for sale. It will be in short supply for some time.
The Woodman Arms Patriot muzzleloader is a hammerless break action that pivots on a hinge pin. The 24-inch 416 stainless steel barrel is coated with melonite, including inside the bore for corrosion protection.
The bolt cap and many other action components are made of 17-4 stainless steel, highly resistant to corrosion. That's part of what the premium price buys: only the best materials. The receiver is anodized aluminum to reduce weight. The pistol opens by pulling the front of the oversized trigger guard. Pulling it all the way back also cocks the gun. There is a cocking indicator on the left side which is also used to unlock the gun so you can open it without pulling the trigger. The safety is a cross bolt behind the trigger.
The stock and forend are made of walnut, and the forend is carved to make it smaller where the hand fits for carrying and larger where the hand grips for shooting. Both have a laser cut grid pattern and the front has the Woodman Arms logo inside the grid pattern. My gun's trigger is exceptional, snapping at 2.75 pounds. There is a bit of travel, but it's not enough to notice. My only small detail is that the stock is designed to be used with a sight or scope, and I just find it a bit too low for use with a scope. It's not really a problem, but it's my job to notice these things.
Sling swivel studs are included, as is a ramrod, of course. Iron sights or scope mount are extra. I ordered the Woodman Arms scope mount and installed a Leupold VX-3HD 2.5-8X36mm scope. This mount uses unique screws with a tiny 5/32 hex head. Once I found the right wrench, they allowed me to easily tighten them to the recommended 30 inch-pounds.
I can see why the Patriot has become a tracker favorite in the big woods. It is light, short and easy to carry. It fires very well and with the bolt closed it can be waterproofed to ensure it fires every time. But, come to think of it, these are features I would want in a muzzleloader anywhere I hunt. It's precise enough to handle the countryside, light enough to climb mountains, and small enough to do well in a deer blind. It's a do-it-all weapon. He is at home in the Rocky Mountains hunting elk or in Maine stalking white-tailed deer.
I have a lot of choices, but this is the weapon I will use this fall for all my muzzleloader hunts.
Technical specifications
• Type: burst barrel, muzzleloader rifle online
• Caliber: .45 (tested), .50
• Barrel: McGowen Precision Barrels; 416 stainless steel; 24″; outline; striped button; 6 groove; 1:24″ RH twist; Melonite finish
• Trigger: in one step; 3.5 lbs. pull weight
• Site (s : nothing; optional iron sights and scope mounts
• Security: cross bolt
• Store: straight comb; walnut (tested) or laminate; 13.75″ pull length
• Metal finish: black anodized receiver
• Total length: 40″
• Lester: 5.5 lbs.
• Accessories: cylinder head pick-up tools; baguette; front sight hole plugs; sling swivel studs
• MSRP: $879-$909; woodmanarms.com