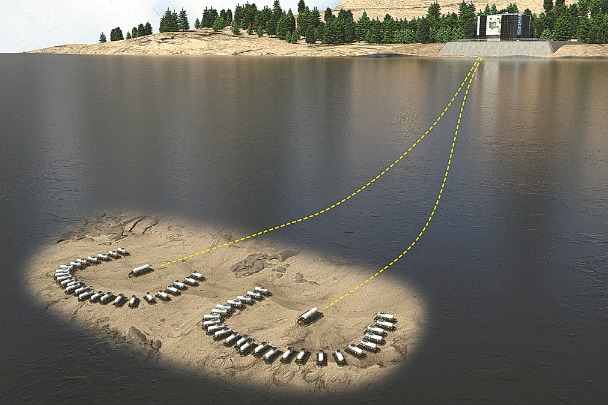 Nation will obtain the first commercial UDC in Sanya
Hainan province authorities on Sunday reached a strategic deal with a Beijing-based company to build the world's first commercial demonstration underwater data center in Sanya, a coastal city at the southern tip of the island. of Hainan, according to local officials.
The project, which will be built with a total investment of more than 5.6 billion yuan ($ 880 million), will be the world's first commercial UDC, said Wang Bin, vice-governor of Hainan, at a meeting. on developing information on low carbon emissions. infrastructure, held Sunday in Sanya.
Wang said that accelerating the construction of new infrastructure is an important task in the development of Hainan Free Trade Port, and the provincial government will provide key support to promote new innovative maritime infrastructure technologies. Hainan will make good use of its unique marine resources to develop an industrial hub of low-carbon green marine infrastructure in the country.
The underwater data center will use information technology facilities such as servers in cabins at the bottom of the sea, using underwater composite cables to power data transmission to onshore internet data stations. . Cooled by sea water, the underwater data center has advantages such as energy saving, land saving, water saving and low total costs, said Xu Tan, vice president of Beijing Highlander Digital Technology Co Ltd, which is engaged in intelligent sea economy research and technology. development and will be in charge of the construction of the data center.
As a new exploration of the overall planning and use of land and sea resources, the UDCs will share sea areas and serve each other with ecological projects such as sea pastures and fishing cages, as well as industrial projects. such as offshore wind power and offshore oil platforms, experts say.
"The demonstration project, which will be located in Haitang Bay, one of the five well-known beautiful bays in northeastern Sanya, will be transformed into an industrial park full of new marine technologies with the underwater data center. as a core, "Xu said.
She said the center, which will be completed in three stages starting next year, will have 100 UDC cabins around Haitang Bay.
"The results of official tests have shown that the efficiency of cooling systems and data transmission systems to be adopted by Sanya UDC has reached advanced international levels," Xu said, adding that the company will continue to research advancements in the development of renewable marine energy technologies to use energy from sea wind and waves to ensure the greener operation of UDC systems.
Cooperation preparations are also underway for new UDC projects in China's coastal provinces and cities, starting with the Yangtze River Delta and the Pearl River Delta, Beijing Highlander said.