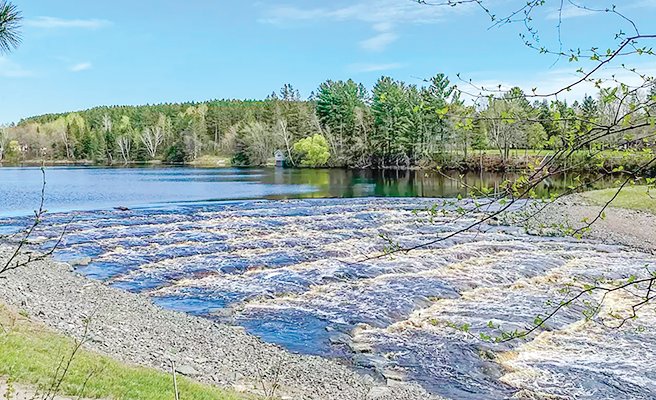 New dam on the River Nett planned
David Colburn
NETT LAKE – An aging and ailing concrete dam controlling the waters of Nett Lake is about to be demolished and replaced with a new design that will have ecological benefits for the Nett Lake and River.
The need to replace the dam, which was built in 1987 about three miles downriver from the lake, has been evident for several years, said Chris Holm, director of natural resource programs for Bois Forte.
"That old concrete and material isn't as tight as it used to be, and you get tremendous force from water and ice buildup," Holm said. "You have galvanized hardware holding the dam gates just coming off and we would find 5,000 pound gates right in the river. So we have to call in construction crews and put it back in place. After so many years of doing this, it's really become purely cosmetic, putting lipstick on a pig to try and fix it.
Holm was surprised that the dam withstood the historic floods last spring.
"We really thought it was all going to go away," Holm said. "It was completely flooded, the headwalls that anchor it to the shore were completely flooded, the water was rising up to the walkways, the concrete was developing big cracks – I said it was going to be fine. And it didn't.
The possibility of the dam collapsing is of great concern given the importance of Nett Lake's annual wild rice harvest.
"Nett Lake has amazing seedbeds," Holm said. "If the concrete dam were to let go and we had a major flush out of the basin, we were concerned that we would lose all the water very quickly, not be able to get it back, and freeze or dry out the reservoir beds. seed. If this happened and we lost the rice forever, it would be unthinkable.
Holm said the Bois Forte Tribal Council has been carefully considering replacing the dam for two years.
"We've had engineering companies here doing full feasibility studies and getting cost estimates on replacement or repair, and it makes sense that it's time for that to go," Holm said. .
The council also allocated nearly $1 million to the project, including US federal bailout funds, but with rising construction costs, that was not enough.
"A year ago, the estimated construction cost was $780,000. Now it's $1.2 million," Holm said.
But last week the Iron Range Resources and Rehabilitation Board paid an additional $350,000 for the project, giving the band what it needs to cover the $1.2 million dam and about $100,000 for the contingencies and engineering costs.
Rock arch dam
When the decision was made to replace the dam, it opened up the possibility of considering alternatives.
"The question has become whether we're going to build another one of these old school monstrosities that create their own set of ecological problems or are we going to get a little bit progressive and do what other parts of the state are doing and of the nation," Holm said. .
The concrete dam was designed to block flow, not facilitate it, and that created problems for the Nett Lake basin, Holm said.
"You can never draw enough water from the basin to get a good cleaning of the basin, removing rice chaff and sediment that builds up year after year," he said. "You create a space of dead water, a stagnant space that promotes filling. Nett Lake in a good year will produce thousands of acres of rice that will turn into rice straw. You have to be able to get rid of some of these things and we haven't been able to do that for 35 years.
The concrete dam also prevented fish from entering and exiting the shallow pool.
"There was a fishing crash there," Holm said. "Nett Lake is really shallow, like an average depth of three feet, and in the winter there is no refuge for the fish so they freeze over."
To address these issues, Bois Forte chose to go with something that doesn't even closely resemble traditional concrete dams.
They install a rock arch dam, also known as a rock apron. It is a series of rocks that stretch out over the water in descending rows, with puddles in between.
"These are rock piles designed on a three to five percent slope, and the elevation is designed to maintain optimum elevation in the middle of the rice road," Holm said. "It creates pools and rapids that fish and animals can use to get in and out of the pool. You can actually control the water level and encourage ecological connectivity without a large concrete wall obstructing the flow. It is a very low maintenance way to reconnect fragmented water systems.
Holm, the Tribal Council and others visited such a structure in the Park Rapids area, and Holm said it helped the council decide to go with building a rock arch.
An added benefit of the new dam will be reduced maintenance, Holm said.
"I'll say the dam is about 20 miles by car," he said. "It's in the sticks and there's no electricity. There is only a secondary access road to enter. To measure the water levels for rice, someone has to go out there and manually move the mechanical valves up and down to adjust the water levels. This thing gets rid of all mechanical functions and all potential damages and repairs.
Demolition of the concrete dam is expected to begin next week, Holm said, and the target date for completion of the rock arch replacement is Dec. 31. Holm said getting the work done now should help the development of wild rice next year.
"We'll be back in the business of being able to get water out of the pond and regulate it again for the rice," Holm said.