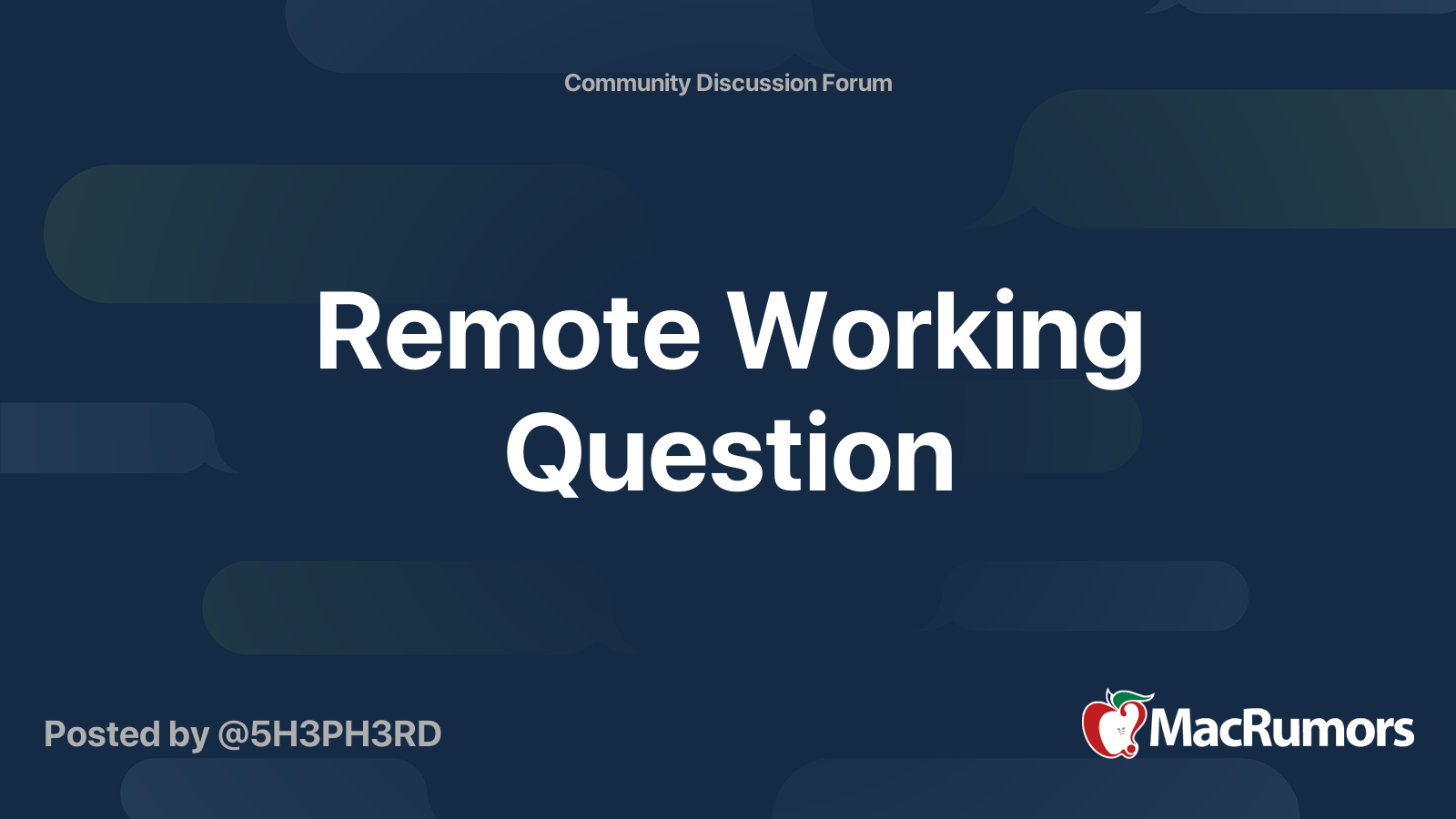 Remote work question | Mac Rumors Forums
Hey –

I'm looking for feedback from those of you working remotely, or even hybrid working (decent split between office and home/elsewhere).

Looking back, what did you wish you had known before you got into this working arrangement?
What did you learn along the way that improved your remote working life or improved your career?
What fights do you currently have?
Other comments

Looking more closely at this working arrangement and I'm really interested in hearing about the experiences, issues, learnings, etc.

Thanks.
I work 100% from home, so here is my review.
• I would have liked to know: how long it would take to organize a configuration with which I was going to be comfortable.
I started working from home with monitors, keyboard, mouse and Mac provided by my employer. I still have the Mac but the monitors, keyboard and mouse are back to work. I use my own stuff now. My monitors are connected through a KVM switch, which I bought myself. Plus all the other stuff (adapters, etc.) needed to make my much larger monitors work with the company Mac.
The company's Mac is still in clamshell mode and stays away. I never use it except for work, although I've been told "It's your Mac now".
• What I learned along the way: it will be more fun and more comfortable to use your own stuff (apart from the computer itself).
The less your business takes over your home, the better. I have my own workspace and all the things that came with the Mac company were invading my space or forcing me to use a different space (which made my wife unhappy). Find a middle ground where there is balance and work equipment does not dominate your own business.
• What struggles do I currently have: Being out of the loop. I was told certain things at the various times when it was necessary (for one reason or another) to go to the office. So far, little has paid off. I had to make the decision that it didn't matter. Whatever the company does, the most important thing happens and that is getting my paycheck deposited into my account on the due dates.
• Other comments: The nature of what I do means that I don't have to deal with Zoom or any other type of video communication. Most communication is via email or Google chat. Occasionally I have to text or call, but that's rare.
I have no problem showing up on time, I'm usually in front of the computer anyway. It's just a matter of hitting the KVM switch. The interruptions don't bother me, but they really only happen during the summer when the children and the wife are not at school (my wife is a teacher). Luckily my boss is flexible and as long as my eight hours are up and I stick to the schedule I'm doing, I'm fine. I just have to alert the guy who schedules my workload.
I had to learn that mine personal timing is important. At first, I just showed up at my office in whatever clothes and condition I wanted. I'm still a professional, so it's important to keep that mindset. Take care of your hygiene and show up ready to work when you need to start. Keep to the routine because if you don't, you'll slack off on other things.
That's not to say I don't show up in shorts and shirtless (it's hot in the summer and our central air conditioning isn't working) but I showered, coffee, and went about my morning routine.