The UR-112 Aggregat watch from Urwerk is a machine for your wrist that also tells the time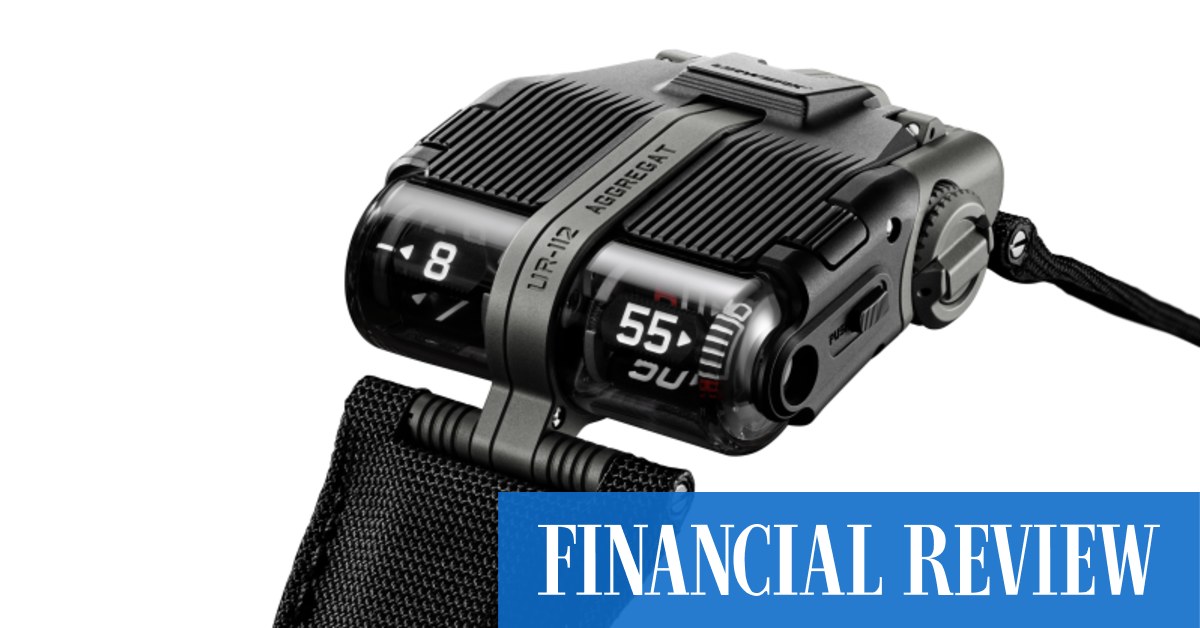 The UR-112 Aggregat watch from Urwerk is a machine for your wrist that also tells the time
A look at the Aggregat shows that I don't need to have. The hours and minutes are displayed on triangular beryllium copper prisms visible under transparent cylinders, the latter "levitation mechanisms" clearly visible through the glass.
The hour numerals, engraved then filled with Super-LumiNova, change sequence while the minutes – "freed from the constraint of the singular" – instead jump in five-minute increments. The operation is directed by the advance of the minutes; at the 60th, the force accumulated during the previous 3600 seconds is released to make the hour pass to the next hour.
The main source of this power is a movement designed around a long, thin rod or double gear driveshaft – one at each end – which connects a complex set of cogs and a succession of titanium planetary gears. Despite being turned 90 degrees – this is perpendicular to the horizontal indication of the hour – it transmits all the necessary energy.
Getting the most out of the watch is just as involving. It is presented in a case with matt anthracite and black finishes, surmounted by a hinged titanium protective cover. Sitting flat on the wrist, at 42mm by 51mm, it's not a shrinking purple but well sized given there's that lid to play with.
Pressing the pushers on either side of the case unlocks the cover to reveal the digital seconds – underlined by a touch of red and engraved on tiny discs of silicon wafers, "scrolling under a magnifying glass next to the only analog display of the UR-112, a 48-hour power reserve indicator".
Frei says the sources of inspiration for the design were many and diffuse, with the grille from the Bugatti Atlantic being the most obvious. First seen in 1936, the Atlantic caused a stir with its aerodynamic bodywork, prominent center seam and vertical grille with speed lines – patterns you can see reflected in the low-profile Aggregat.
As for the nomenclature, Baumgartner explains: "We nicknamed this watch the Aggregat because the UR-112 brings together different elements. From a single energy source, we power all displays and mechanisms.
"This force is distributed sparingly, some even 'recycled', so that from the digital seconds at the top of the dial to the trailing minutes and jumping hours at the opposite extreme, each display receives precisely its required dose of energy without any waste. ."
Plans are to make just 25 pieces in the configuration here, each priced at CHF250,000 ($380,000), which equates to around CHF10,000 per gram given its 25.5-gram weight. Yes, a lot, but at the very least you're not paying for the same old, same old.
AFR Magazine's Innovation March issue – plus Machine – was released on Friday, February 25 inside The Australian Financial Review. Follow AFR Mag on Twitter and instagram.