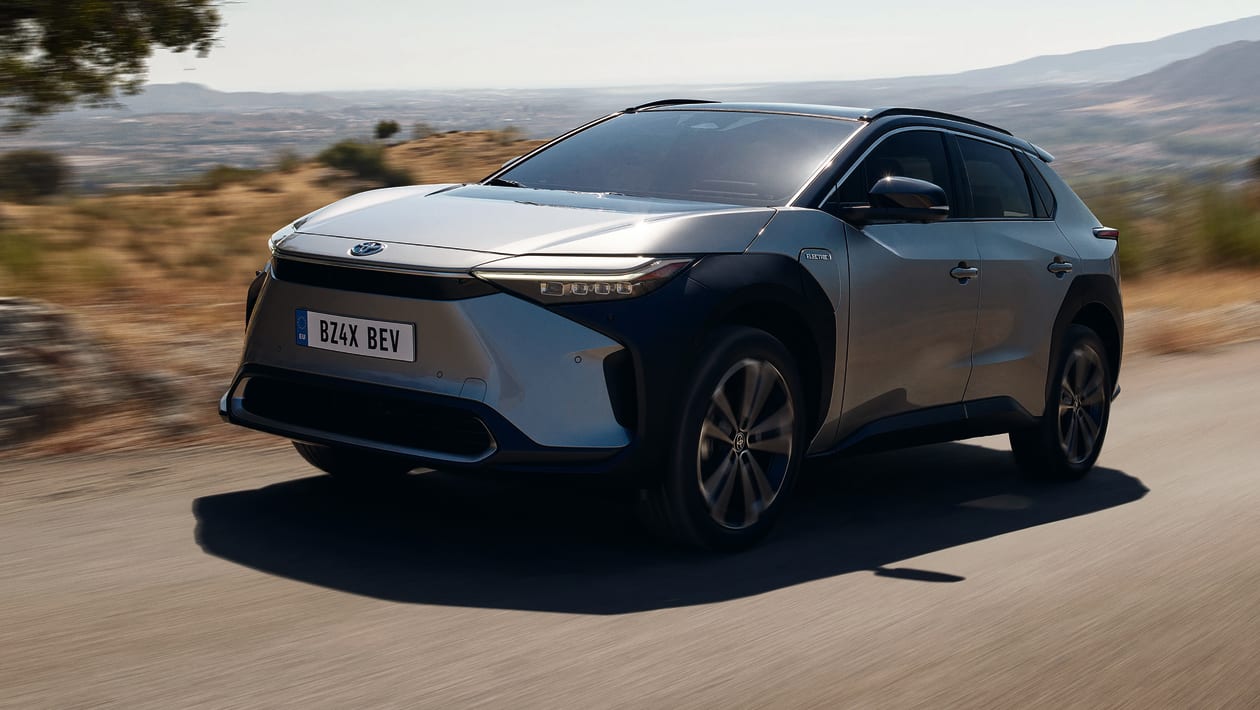 Toyota bZ4X electric SUV unveiled in production
Toyota has unveiled the production version of the bZ4X – its first dedicated fully electric car and the first in a wide range of new zero-emission models from the Japanese company that will be found under the bZ sub-brand ("beyond zero "). .
The electric family SUV will arrive in the UK in 2022, with reservations possible on Toyota's website from December 15 this year. A price range for the production version has yet to be confirmed, but we expect it to cost around £ 40,000, to match electric SUV competitors such as the Ford Mustang Mach-E, Volkswagen ID. 4 , the Mercedes EQA and the Skoda Enyaq iV.
The bZ4X was previewed as a concept at the Auto Shanghai 2021 motor show in China last April and the production version remains close to this car's appearance. It is based on the "e-TNGA" mechanical platform, the batteries of which are an integral part of the chassis, promising the usual advantages of electric cars of a low center of gravity, a good balance of front / rear weight and 'high rigidity. Four-wheel drive by means of a dual-motor configuration will be available on the more expensive versions.
Toyota's electric car platform was developed in collaboration with Subaru, and the latter brand will have its own version of the car, called the Solterra. Previous reports, as well as trademarks by Toyota, suggest that the bZ lineup will include smaller models, with names ranging from bZ1 to bZ5, as well as a larger SUV named bZ5X.
Toyota bZ4X range, batteries and recharging
Toyota has so far confirmed a battery size for the bZ4X – 71 kWh. It expects it to deliver over 280 miles of range when tested to industry standards. According to the manufacturer, the batteries should retain 90% of their original capacity even after 10 years or 150,000 miles on the road. It is not yet clear whether smaller or larger battery variants will also be offered in due course.
Fast charging up to 150 kW will be possible, allowing 80% of the battery capacity to be reached in about 30 minutes from sufficiently fast public charging points. Towards the end of 2022, Toyota will make an 11kW on-board charger available in the bZ4X, for faster charging of wallboxes overnight in homes or premises with a three-phase power supply.
Engines, power, performance and four-wheel drive
Like many electric SUVs, the bZ4X will be available both as a cheaper two-wheel drive and as a top-of-the-range four-wheel drive. The single-engine, front-wheel drive version will have an output of 201 hp and a maximum torque of 265 Nm, for a 0-62 mph time of 8.4 seconds and a top speed of 99 mph.
The four-wheel drive version has two motors, one each driving the front and rear axles. Peak power here drops to 215bhp and torque to 336Nm, reducing the time from 0-62mph to 7.7 seconds. Toyota says the four-wheel-drive bZ4X will benefit from various off-road driving modes, suitable for "snow or mud", "deep snow or mud" and "more difficult off-road driving".
Interior and technology
The concept version of the bZ4X seen in April 2021 featured a 'yoke' style steering wheel – a piece of 'wire steering' technology that removes a mechanical link between the steering wheel and the front axle, reducing the need to move your hands. around the steering wheel. However, Toyota says this system is now slated for introduction in Europe "at a later date" and the production version images show a conventional circular wheel.
Elsewhere, Toyota says it went for a "salon" vibe when designing the interior of the bZ4X, using soft woven trim textures, satin finished details, and a slim, low dashboard for give a greater feeling of openness to the driver's seat. A "hands on the wheel, eyes on the road" philosophy places the driver's seven-inch information and instrument display directly in the eye line, just above the steering wheel line. A panoramic sunroof is optional.
Practicality is enhanced by a long wheelbase and short overhangs to maximize interior space, with Toyota saying passengers will benefit from as much legroom as in a luxury sedan like the Lexus LS. The trunk capacity can reach 452 liters and from a safety point of view the bZ4X is expected to be equipped with the latest third generation version of the now familiar suite of driver assistance and collision avoidance technologies "Toyota Safety Sense ".